Franklin County, Idaho
---
---
Franklin County was formed on the 30 Jan 1913 from Oneida. The county seat is Preston, Idaho.
If you would like to donate family information or local photographs or would like to help put some of Franklin county records online or help volunteer to do lookups for Franklin County. please contact us

We would like to thank Jason Mendenhall and all of the previous coordinators for doing a great job with this Franklin County GenWeb site.
ADOPT-A-COUNTY
This county is available for adoption. If you are interested in becoming the County Coordinator for
Franklin County
or any other Idaho county. Contact the .
Or visit our "Volunteer" page for detailed information on how to become a County Coordinator.
My Name is Randy and I will be the Temporary Franklin County Coordinator until it is adopted. If you have questions about the web site please let me know. so that I can help make your visit as successful as possible.
Contact Temporary County Coordinator
---
---
Franklin County Research Area
---
---
Towns
Histories & Historical Events
Histories & Historical Events
---
---
Franklin County Message Boards

---
---
Personal Genealogy Pages with a Franklin County Idaho Connection
If you have a Franklin County connection on your personal genealogy homepage and would like to be added to this section, please e-mail the URL to us : Contact Temporary County Coordinator
---
---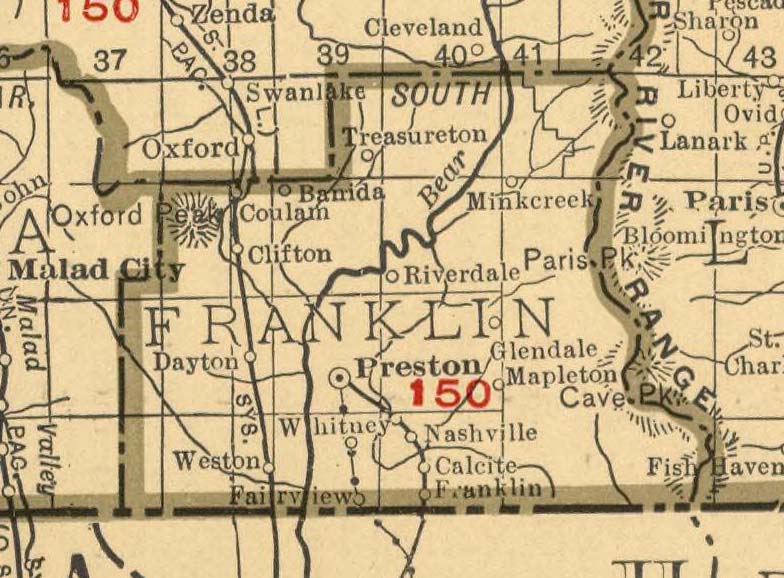 Map - Rand McNalley 1924
---
---
---
---
This page was last modified: February 2017
Links to external web sites are being provided as a convenience and for informational purposes only; they do not constitute an endorsement or approval of any of the products, services or opinions contained in any external web site.
Copyright © 2001 - | Franklin County a part of the IDGenWeb Project | All Rights Reserved

This site may not reproduced in any way